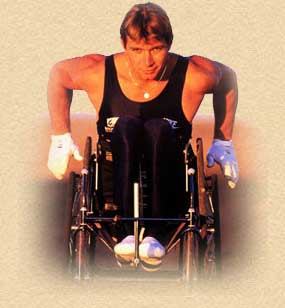 Immanence Magazine June 2007
by Giovanni Spezzacatena
Powell River's Model Community Project for Persons with Disabilities and The Powell River Brain Injury Society are proud co-sponsors of the 5th annual Rick Hansen Wheels in Motion Event for 2007. It's the 20th anniversary of Rick's "Man in Motion World Tour" which increases awareness, quality of life, and works for a cure for spinal cord injury.
Our 2007 goal is the purchase of a standing frame for the Powell River Recreation Complex. The adult "glider" standing frame provides dynamic leg motion for wheelchair users, enhancing the therapeutic benefits of standing.
On Sunday June 10th, 2007, starting at 9 am at the Recreation Complex, choose the 1 km, 5km, or 10 km routes to walk, wheel, run, bike, or roller-blade! The event is free to participate in, with money being raised through pledges, donations, and special events. Pre-Register online: www.wheelsinmotion.org. There are three $100 cash incentive prizes for the individual, the family/friend team, and the corporate team raising the most money, as well as buttons and t-shirts! Donations can also be made at Scotiabank.
One special event this year is our "Raffle in Motion!" Win prizes like a round-trip for two to Vancouver, with a stay at the River Rock Hotel-Casino, Terracentric's Zodiac tour, and more! Tickets are $2 each. Buy them at: Scotiabank, RBC, Rocky Mountain Pizza, The Recreation Complex, Visitor's Centre, Jump Radio/MCP, Magic AM, and Powell River Brain Injury Society, etc. The raffle draw date is June 27th.