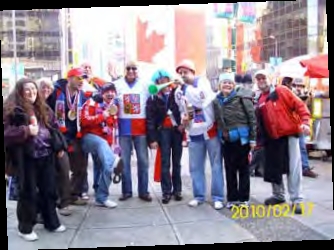 (from Headline Magazine Spring 2010)
by Debbie Dee, Powell River Brain Injury Group
It all began when our executive director, who also sits on the Spirit of Community committee, found out that VANOC was giving away 50,000 free tickets to the Games for persons on low income in the Lower Mainland. As it happened, the chair of the committee was on her way to a Summit meeting; she took forward our request that the tickets be extended to persons with disabilities and that the boundary of the giveaway also be extended to a radius outside the lower mainland. VANOC agreed.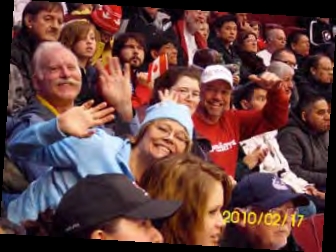 When we applied for the tickets, we did not know if they would be for an Olympic or a Paralympic event, or if they would be in Whistler or Vancouver or Richmond. We needed to prove that we had a place for everyone to stay. The generosity of Wendy Schrul and Drew Thomson was overwhelming! They offered their home to seven of us for three nights and four days. Others from our group would stay with family members and we would meet up at each event.
We were waiting with nail-biting anticipation to hear if we were approved for the tickets. Then the email came that we had been given 30 tickets – 15 tickets for each of two events, including the wheelchair access and companion seats! Then more good news came in the form of travel funds – if we were taking people under 25 years old we could apply for travel funds from ACT Now BC. Two of our travelers are under 25 so we received enough funds for all of us to take the five-hour journey, including two ferry rides, to Vancouver.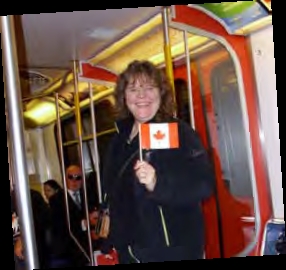 Our tickets were beautiful! They were for a Victory Celebration and Medal Ceremony at BC Place Stadium and the Men's Hockey Game between Finland and Belarus at Canada Hockey Place. WOW!!! We immediately let our client membership know that we had tickets and asked who would like or was able to attend these events. We put a sign-up sheet at the Centre and invited people from our Facebook page. After a few changes here and there in the numbers and people, we had our 15. Off we went on a Monday afternoon 3:30 ferry; we arrived in Cloverdale at our "hostel" at 9 pm. Excitement abounded all the way. We had rented a van for everyone to travel in and we sang songs and shouted GO Canada!
Because Cloverdale is one of the farther suburbs from Vancouver, we took the Skytrain to our events. If you have ever been on the Skytrain, you know how quiet it is: no one talks to each other; they read or look out the window – but not this time! Skytrain was teeming with excitement. People buzzed. We traded pins and scarves and little hockey jerseys and we had Canadian flag face tattoos that we put on fellow passengers. We met people from Finland and Belarus and Czechoslovakia – the air was electric!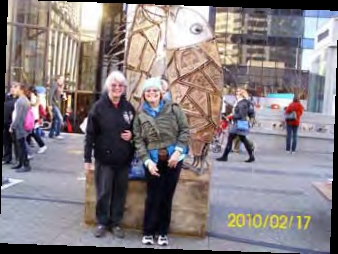 The security lines to get into events were not as bad as we had been told they would be so we were three hours early for our first event, but it didn't matter. We walked around to a few pavilions nearby and had our pictures taken with Saskatchewan football players and Ontario dancers who wore little more than feathers. The weather was fantastic – sunny and warm!
I must comment on the stamina and fortitude of our headline merry band of travelers. We all know that acquired brain injury has challenges that manifest in fatigue – mental fatigue that leads to physical fatigue, which can show up as pain. All who traveled with us (as they pushed on with crutches and wheelchairs) were smiles all the way! We were fortunate to be invited to the top of the Scotiabank tower where we had a rest in a comfortable and beautiful surrounding with a spectacular view! But I'm getting ahead of myself.
The first event was the Victory celebration when Canada won Silver in the men's snowboard cross. Thunderous cheering erupted when our athlete stepped on the podium; it was one of those time when the little hairs stand up on the back of your neck and your arms and you are so excited you just can't contain yourself. I was so proud to be a Canadian at that moment!!! The Gold medalist was from the USA and we all stood and sang the national anthem. We tried to sing all the anthems that night; however, we didn't know the words or the tunes for the German or Korean anthems, but we sang along anyway!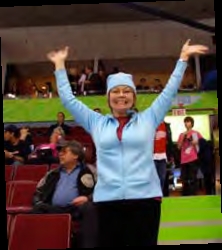 And then, we had yet another surprise that night! We also got to be part of the evening concert with the Barenaked Ladies. Again, we were all singing, and we had "If I Had a Million Dollars" in our heads for the duration of our trip.
As we made our way back to the Skytrain to head out to Cloverdale, I wondered how our group would feel in the morning; we had to get up early and do this all over again for the hockey game which started at noon. My fears were dispelled when the group was up and ready for the day before me! Showered, fed and charged up, off we went again to meet more international friends on the train and into the Hockey Stadium with our hand painted banner utilizing the CTV phrase that was all over our souvenir t-shirts: "Powell River Brainiacs [as we fondly call ourselves] Believe!"
We rooted for the underdog Belarus and exploded in cheers when they scored their one and only goal of the game. Finland won 5-1, but we didn't really about care the final score. We were there, we were part of history and we loved every second of it! We purchased t-shirts and pins and other memorabilia from the events and off to downtown Vancouver we went. We had to go to the Vancouver Art Gallery to see the genius that Leonardo da Vinci was – and it was free! On our walk to the art gallery, we passed a street full of art on Granville and Robson Streets; we even ran in to a local Powell River artist (funny how we always run in to someone from Powell River when we journey outside the Sunshine Coast).
We didn't last much longer than that, but there was so much more we could have done for free – but the people and the lineups were tiring and we had come and done what we started out to do, so we were happy. Back to Cloverdale for a nice Chinese meal and "home" to bed. The next day we just relaxed and then went our separate ways, our little caravan of vans all going in different directions. Some were staying for more events, some were on their way to vacation homes and the rest of us headed back to our home on the upper Sunshine Coast.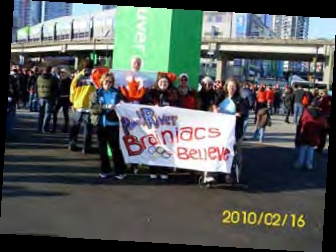 Here are a few words from more of the travelers:
Jena
At the medals ceremony Tuesday night, the first medals went to the winners of the Men?s Snowboard Cross. Seth Wescott on Team USA was awarded the gold. As an American resident of Canada, standing in that stadium and singing my national anthem while the US flag was being raised for Wescott's gold was certainly one of the most patriotic and memorable experiences I'm likely to have. But oddly enough, I felt similar pride for each of the athletes who were receiving their medals that night – and truly appreciated for the first time the slogan on all those gift bags we were carrying: Go World! In large crowds, like those at the Olympics, you might expect an elbows-out kind of attitude from all the people milling around, but even our girl on crutches found the crowds easily navigable (usually). The exclamations of amazement from people new to Vancouver or new to that particular Olympic scene (e.g. the art street at Robson Square), just kept making us happier and happier to be part of this huge event. Exhilaration is contagious. One night as we were making our way back to the Sky Train, three little girls in front of us were competing to get the most number of pins. One shouted, "I have eleven!" That seemed to put her in the lead. One of us said, "Who has eleven pins?" and they whirled around to show off their collections – totally lacking any inhibitions about talking to strangers (maybe because their mom was with them). They were wearing their pins on their hats. They danced with excitement when we shared our Powell River pins with them, and just a few minutes later, we saw them chatting happily with an RCMP officer at the corner, pointing at various pins on their hats.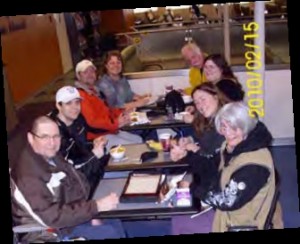 Catherine
Our mini van glowed with excitement as we boarded the first ferry to the Olympic Games. Who would Believe we were going to see a Victory Celebration and a Men's Hockey Game? Our adventure began with the usual parking dilemma; where was there room? After driving to the second Skytrain Park and Ride, a kind gentleman told us the secret of finding a parking space and it worked…wait until someone comes off the train and ask to follow them to their parking spot. On to the Skytrain, with many first time riders marveling at the languages spoken and national displays. Excitement propelled us on to the Victory Celebration. As we entered the Stadium we again experienced the thrill of anticipating the event. The topper was the performance by the Barenaked Ladies.